Our Tamarack Adventure & Retreat Center team shares a passion for the outdoors and an enthusiasm for working with youth and adult groups. While we extensively train each and every staff member, most come with prior experience in team building, outdoor skills and environmental education.
Matt Russell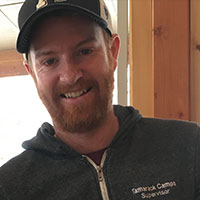 Matt first came to Tamarack from Australia for a summer job in 2005, and he fell in love with camp, returning for several summers and working for the year-round program, Tamarack Adventure. Matt serves as Program Manager. Tamarack is where he met his American wife, and the two of them spent the first five years of their marriage in Australia. Since moving back to the States in the winter of 2018, Matt has joined the Leadership team for Tamarack Adventure & Retreat Center and works diligently to ensure a positive experience for all of our guests.
Cathy Calvano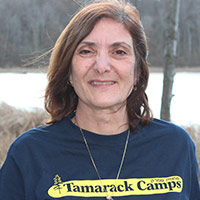 Cathy Calvano joined Tamarack Camps in December 2013. Prior to joining Tamarack Adventure & Retreat Center, she served as CFO of the Fisher Group, LLC, where she managed its accounting and tax groups.
Cathy, a graduate of the University of Michigan, is a certified public accountant in the State of Michigan. Her expertise in not-for-profit accounting and management, and financial and strategic planning capabilities makes her a vital member of the Tamarack team. We're lucky to have her as our CFO, where we can tap into her endless knowledge, expertise and experience to benefit our facilities and guests.
Jeanette Levy
Jeanette Levy spent the majority of her career in Midland, MI working in sales, event planning, facilities support and more. But after moving to Goodrich to be near her future husband, she was eager to embark on a new adventure with Tamarack Adventure & Retreat Center. Jeanette now serves as Tamarack's Administrative Assistant, bringing her upbeat, positive personality to our office and guests.
Mark Noble
Mark Noble has always had an immense passion for the outdoors, and working at Tamarack during his college years only solidified his desire to be surrounded by nature. Mark loves to travel and has spent quite a bit of time exploring the US, UK, Israel and Mexico. But throughout all his journeys, he has come to believe one thing: in Michigan, at Tamarack Adventure & Retreat Center, the air is cleaner, the weather is more crisp, and there's truly no place like it.
As the Community Liaison Director for Tamarack Adventure & Retreat Center, Mark spends his time talking to business and community leaders, taking them on tours, and offering their staff an opportunity to embrace the great outdoors, close to home.
Jess Whatley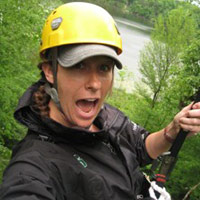 Jess Whatley has been working at camps since 2004. Before joining the Tamarack family, she worked in the beautiful Pocono Mountains and the Swiss Alps. But after some time away from home, she felt an urge to move back to Michigan in 2009 and has been working at Tamarack ever since. Jess and her husband now live in Ortonville, MI, which has only deepened her devotion to Tamarack and her love for the great outdoors.
As the Director of Programs, Jess is constantly looking for ways to improve Tamarack's programs. She strives to ensure every camper, teacher, parent and staff member leaves camp with newfound confidence and a smile on their face.