The Farber Farm is thriving this spring season and our staff is proud to announce the new programs offered through the Tamarack Adventure and Retreat Center! Tamarack has always strived to immerse guests into the outdoors and give them a new outlook on nature. Through ropes courses, wilderness survival, and living science programs, Tamarack is able to teach groups lessons they cannot get in a typical classroom. The farm staff continues to create and offer more programs to teach students about the natural options to farming and everyday life!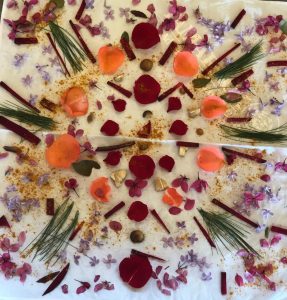 In today's world, chemicals are used for almost everything, but it wasn't always this way: food production, cleaning supplies, and clothing production were used with natural ingredients. It is possible to use cloth dyeing techniques as they have been around for thousands of years. Humans only stepped away from these techniques a hundred years ago. The new program 'botanical dyeing' uses fruits, vegetables, and flowers to create the colors used in tie-dye! In the summer, flowers and plants are harvested from the farm, to use for this program. In the fall and winter, beats are used to create a pink dye, purple cabbage is used to make a purple color, and onion skins are used to make a yellow color. These veggies simmer in water for a day and then they create pastel patterns on the fabrics that soak in them.
This is a great way for students to learn about how to use plant scraps to make something beautiful! Dyeing techniques avoid exposure to chemicals and harsh additives. Plus, while waiting for the clothing to soak, you can snack on your ingredients! However, with the new program 'Soil Safari' you definitely do not want to snack on the materials…
With Soil Safari students learn what soil is and how to protect it. Through a hands-on approach, students learn about soil types and erosion. Students make observations and discuss their discoveries and conclusions with each other. Through experiments, they explore chemical versus natural methods of fertilization. They do this in order to observe how harsh, and dangerous, chemical fertilizers are to our soil. The quality and diversity of the soil are discussed in relation to monoculture and polyculture farming techniques.
Soil Safari allows s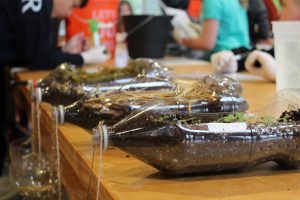 tudents to get a better understanding of soil and how important it is, compared and contrasted to dirt. The immersive teaching style gets students' hands dirty! Students learn the value of farming by experiencing it hands-on with discussions. The new Farber Farm programs allow students to step back from the fast-paced, efficiency-driven world and take a look at natural possibilities. These techniques are not only better for the environment but also better for ourselves!