Working at Tamarack Adventure & Retreat Center has a lot of advantages. You get to work outside, you get to meet new people almost every day, and you often get to share special moments with guests. For Macie Keller, 2019 was her first time working in outdoor education, and it was exactly what she was looking for.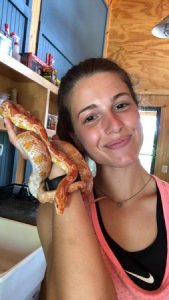 Macie is from Fenton, Michigan and attends the University of Michigan, Flint as a nursing student. When she was looking for a summer job, she wanted something outside and different from anything she's ever done. She knew she wanted to gain experience working with kids and Tamarack Adventure not only provided that, but also an opportunity to gain experience working with different backgrounds and diversities. Macie says, "I get to work with kids in a different way than I do with nursing; I get to help kids widen their comfort zones trying something they've never done."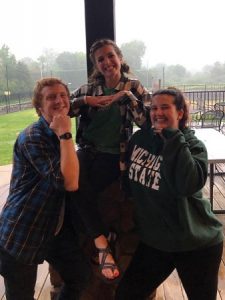 Macie's favorite program to teach is the high ropes course, where 5th grade all the way to corporate groups can conquer. She states, "I love being up in the air with the kids. You get kids who are excited and you get kids who are scared, so it's nice to be that calming factor. Kids really rely on you while they're up in the air." But guests aren't the only ones pushing themselves to new limits. Working at Tamarack Adventure has helped push Macie out of her comfort zone with things like public speaking and introducing herself to new people. Living on camp was also an exciting experience because it was her first time living away from home!
Author: G. Noonan