When you come to Tamarack Adventure & Retreat Center you expect to be immersed in nature, maybe conquer a high ropes course or sing a campfire song, and there is so much more to do! Canoeing, tie-dying, team building activities, and archery— just to name a few! Students can also meet some pretty cool animals at camp. With our program, Living Science, students are able to learn about ecosystems and food chains, while getting to know some animals they would not normally get to meet.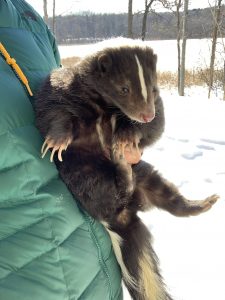 Located in the beautiful Teva Nature Center, students say 'hello' to the animals while overlooking Tamarack Lake. With the garage door open and fresh air streaming in, it's the perfect time to meet our resident skunk Webster. No need to worry, Webster's spray glands were removed before he arrived at Tamarack. He has a little face and nails that click on the ground when he walks. Webster enjoys carrots and cottage cheese, but his favorite treat is grapes!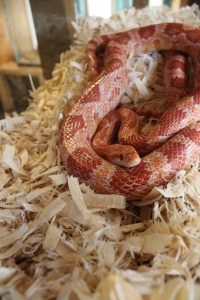 When you first walk into Teva it's hard not to notice the snake tanks! Rous is a dark brown corn snake with black eyes. Kaa is an albino corn snake, so he is a light orange color with red eyes. They enjoy hanging out in warm places and swallowing mice whole. When petting Rous and Kaa make sure to pet them in the direction of their scales, from head to tail. These two often end up tucked in the armpits or hoods of the staff members where they can curl up and warm up.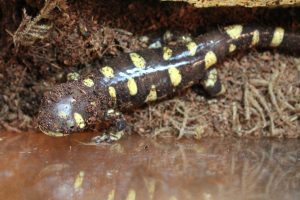 Alexander the salamander spends his days burrowed under the dirt or in his water bowl. His favorite meal is fresh crickets. When Alex comes out for Living Science he can't be petted or held because he is an amphibian; meaning he breathes out of his skin. Human skin oils would clog his breathing pores! Teva is also home to Leo, the painted turtle. He was found on camp when he was just a baby and since then has grown to full size. He loves to swim around his tank and play.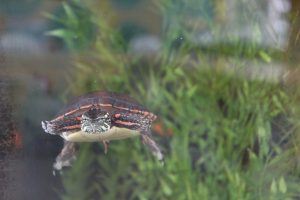 Outside on the back of Teva is the home of Scarlet the Red-Tailed hawk. She was brought to Tamarack after a car accident that left her without the bottom half of her left wing. She enjoys the fresh air and jumping around her enclosure. Scarlet is a camp favorite and always gets an amazing reaction when students see her.
All these amazing animals have something different to teach students. By looking at them up close and discussing what they observe students are able to gain a better understanding of wildlife and nature with the Living Science program.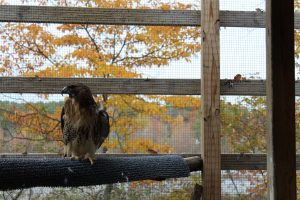 Author: G. Noonan