Making forest shelters, learning how to use a compass, and building rafts may not sound fun to all middle school girls. These activities may seem very different than the fast-paced, connected world. Yet, nineteen young women from the Academy of the Sacred Heart embraced the new and very fun activities. While reflecting on their high ropes experience almost all the girls raised their hand after being asked who was nervous before going up. Sofia (age 12) discussed how satisfied she felt after pushing herself. Sofia said she felt like she was standing on a cloud when she stood on the platform. Tamarack Adventure and Retreat Center is a "Challenge by Choice" facility meaning everyone is encouraged to push their limits no matter what they are, which is exactly what Sofia did.
The high ropes course is highly effective at promoting confidence and teamwork because of the partner system. Everyone in the air is paired with someone on the ground, helping and supporting them while they try to conquer the obstacles. Abby (age 13) said that her favorite part of the day was "the high ropes course with our partners" and she thought, "it was a really good bonding activity because [they] got to step out of [their] comfort zones." Confidence comes from inside a person, but support from others can help build it. It's important for young women to have that support from each other because only they can truly relate. Carolyn Fisher, the girl's English teacher, notes, "it's their first time in that kind of environment altogether. It's their first time here that they really have to support each other and encourage one another." As the retreat continues, Fisher remarks "I have seen several girls step out of their comfort zones today and bond with girls they typically don't interact with, it's great to see."
Not all challenges at Tamarack Adventure include High Ropes Courses. With Skit Trunk night, the girls had forty minutes to come up with a three to five-minute skit. They had to pick out their costumes, plan their general script, and then perform for the group! Some skits included "America's Most Dysfunctional Family" and "Cassandra Lemons." The amphitheater was filled with laughter as the girls performed. They weren't afraid to put themselves out there to their peers.  Ms. Fisher also comments, "there's something that's out of everybody's comfort zone, so to see someone else going through that helps you get to know them better and understand them better, the whole class seems happy and more bonded together." As the day progressed it became clear how much they enjoyed working with one another.
As these young women grow and find out who they are, Tamarack Adventure hopes they remember what they learned. Challenges come in all forms and it's important to remember to not only push yourself but also to support those around you. By working together these girls learned that they can do anything if they're willing to strive for it. Amina Saavedra, Spanish and Photography teacher at the Academy of the Sacred Heart, notes that after the programs, "…they learn that they can trust each other, their confidence is starting to grow, and you can see them bloom." Whether these girls are on the Giant Swing, racing across the lake in kayaks, or taking on high school, they now know they have each other. With just three days of group challenges, "we saw individual progress and they were all able to shine."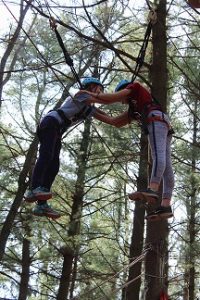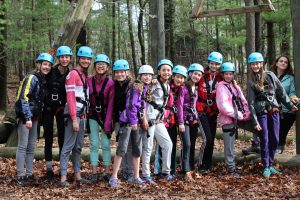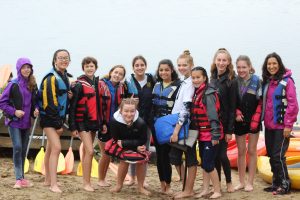 Author: G. Noonan